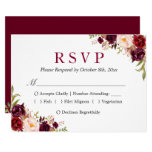 Burgundy Marsala Red Floral Autumn Wedding RSVP Card
by CardHunter
Price: $1.75
================= ABOUT THIS DESIGN =================
Burgundy Marsala Red Floral Autumn Wedding RSVP Card.
(1) For further customization, please click the "Customize" button and use our design tool to modify this template. The background color and text styles are changeable.
(2) If you prefer a thicker paper, you may consider to choose the Matte Paper Type.
(3) If you need any customization or matching items, please contact me.
---
See what other people are watching